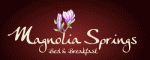 Long Business Description
Magnolia Springs Bed and Breakfast is a romantic Alabama B&B where you can enjoy the canopy of oak-lined streets, days that begin with the smell of homemade breakfast, cool drinks and sultry afternoons on a wraparound porch, and welcome as warm as the mid-day sun.
They welcome you to come enjoy these for yourself and pick a favorite of your own. But it won't be easy. After a tour of our beautiful Alabama Inn, you'll be impressed with the stained glass of the den and the wood work of the great hall. Once in your specially appointed accommodations, you may never want to leave. . . . But when morning comes, the dining room is everyone's favorite place! Starting the day with a three course homemade breakfast might make you wonder if it could get any better!
The day's schedule is up to you, but you've got lots of options. This historic Alabama landmark offers an idyllic setting in an ideal location. If you choose to venture out you're just a short drive from the waters of the Gulf of Mexico or scenic Mobile Bay. An abundance of exciting shopping, beautiful Alabama golf courses, natural wonders and historic Alabama sites are close by. We'll help you find just the right journey.
Send Message to listing owner
Please
log in
to be able to send messages to the listing owner.